Welcome to OregonARMA.org

The Oregon Chapter of ARMA provides quality educational programs and is open to all who wish to learn more about information governance and records management.
Chapter Meetings are held every 2nd Tuesday of the month, September through May.

Privacy and Records Collaboration: A Continuation with CyberSecurity
Presented by: Joshua Carter, Lead Solutions Architect at SECURITI.ai
 
Date: Thursday, January 21, 2021

Time: 7:00am - 8:30am PST
Cost: Free
ZOOM MEETING DETAILS WILL FOLLOW
Save the date: note that we will be joining the AZ chapter for this month's meeting, at a different day and time!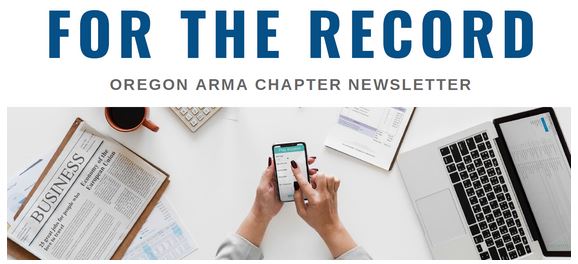 Check out the November Newsletter here: January 2021

Highlights include:
November Chapter Meeting

Upcoming Meetings

ARMA International Updates

Your Oregon ARMA Board of Directors

New Member Spotlight

Membership Anniversaries

Job Postings

From the ARMA Magazine

News Bites

Meme of the Month
All links are to PDF files.


Current Newsletter:  January 2021