Welcome to OregonARMA.org

The Oregon Chapter of ARMA provides quality educational programs and is open to all who wish to learn more about information governance and records management.
Chapter Meetings are held every 2nd Tuesday of the month, September through May.
Records Management Strategy for Exiting Employees
Tuesday, February 9, 12-1:30pm
Join Microsoft Teams Meeting
+1 971-319-4991
  United States, Portland (Toll)
Conference ID: 302 830 268#
Local numbers
|
Reset PIN
|
Learn more about Teams
|
Meeting options
As Records and Information Managers our goal is always for people to properly manage records throughout their entire careers with our organizations.  But, who among us can't tell a story of finding a box of paper records simply labeled "Bob's Desk" in a long forgotten storage room or a collection of abandoned electronic records from a former employee.   The largest generation of Americans is retiring now and all baby boomers will be age 65 older by 2030 meaning, a huge portion of our work force will be leaving. Now is a good time to make certain you have an exiting employee plan in place to ensure records containing a wealth of institutional knowledge are managed well.   Gail will share harrowing stories from the field as well as examples of policies, procedures, and guides from the various government agencies she's worked in that you can use and adapt to your needs.
Gail Snow joined Port of Portland in 2019 as the Records Program Manager where she and a team of two Records Analysts and a collection of Records Coordinators ensure the Port is managing its physical and electronic records in compliance with the law and current industry best practices.  Snow previously worked as the Records and Information Manager for King County and at the City of Seattle before that and with the EPA as a contract records manager in several states including Colorado, Montana and Washington. Gail holds a BS in Political Science from Colorado State University and a Master's degree in Library Science from Emporia State University.  She likes cats and other things.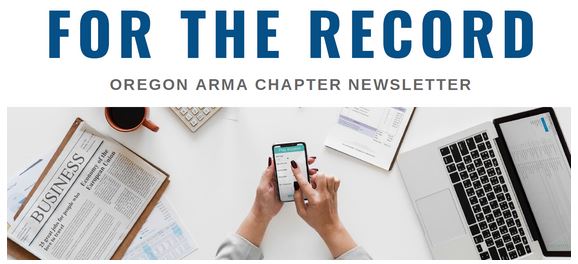 Check out the November Newsletter here: February 2021
Highlights include:
February Chapter Meeting

ARMA International Updates

Your Oregon ARMA Board of Directors

Membership Anniversaries

Job Postings

News Bites

Meme of the Month